Link to your individual collections by creating a new linklist in the Navigation section of the admin.
You can then have it appear here by choosing your new linklist under Customize Theme / Sidebar.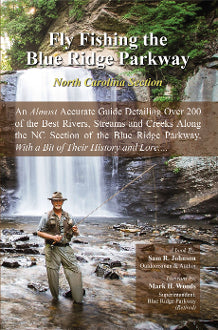 Fly Fishing the Blue Ridge Parkway
---
Lifelong fly fisherman and Blue Ridge Parkway aficionado Sam R. Johnson offers this "First in Class" book detailing over 200 of the best rivers, 
streams and creeks along the 252 mile NC Section of the Blue Ridge Parkway. The book's forward is written by Mark H. Woods; Superintendent 
of the Blue Ridge Parkway (retired).


For the first time ever in one publication, Sam has captured in a 308 page full color book with more than 130 images, an incredible "bucket list" 
many of the most secret and productive places to chase trout along the Parkway in NC. His attention to detail and clarity, presented with his 
tongue-in-cheek writing style, makes the book informative as well as entertaining to read. The book chronicles a lifetime of chasing trout along 
the waters of the Parkway, and offers a detailed history of the legendary roadway. "A lifetime of living with my safety clicked off – boots on the 
ground – and lines in the water experience, offers anglers descriptions and insights of some of the best rivers, streams and creeks along the NC 
Section - with just enough history and lore to keep it interesting." Sam goes on to say: "And if I live long enough, I'll get my thoughts down about 
the 217 miles in the Virginia Section too."


Sam groups the 200 plus watersheds into four – sixty-three mile sections. He provides descriptions of the flows in each watershed including firsthand 
observations and "At a Glance" insights such as: Sam's ranking, fishing pressure, mouth & source GPS fixes, size of flow, trout species, gradients and 
best access points. Then, each flow is summarized in a source to mouth overview, and finally with a highly detailed mouth to source description. 
Descriptions are also provided for each flow's fishable tributaries and feeders. Some of these watersheds include as many as ten or more flows. 
"This guide to some of the best Parkway watersheds is an invaluable resource for any fly angler. Sam's ability to organize and describe each 
watershed's key characteristics will help you find streams some only dream about." Monte Seehorn, Regional Fisheries Biologist (retired) / US 
Forest Service Region 8.


Additionally, Sam offers a fascinating overview of the Parkway's history, construction, flora and fauna, climate, macro-hydrology, basic fishing 
regulations, Parkway management and contact information. Other chapters offer insight into the origins, physical attributes and habits of all three 
trout found along the Parkway, as well as some of the cautions / dangers associated with fishing Parkway waters. Mark Woods, retired 
Superintendent, Blue Ridge Parkway put it this way, "I'm confident you'll find Fly Fishing the Blue Ridge Parkway an invaluable resource as you 
explore the Parkway and spend time fly fishing the many spectacular places Sam has identified along its path."


There's plenty of water for every angling style and experience level. There are "assisted living" waters that are easy to find, access and fish. Then 
there's the heart pounding, remote and sometimes downright dangerous waters that are a thrill just to get to, fish and live to tell about. "Those 
who cast fly rods understand the majesty of the sport. Fly Fishing the Blue Ridge Parkway will elevate your appreciation of the craft viewed 
through the lens of Sam Johnson and some of the most beautiful places on earth," Carlton Wing - Outdoors TV Producer, including "American Fly 
Guide" / Arkansas State Representative.


Ted Parrish, Co-Owner, Lake Fork Trophy Lures said of the book, "Sam embraces the best qualities of Gary Borger, Roderick Haig-Brown and 
Norman MacLean into a great fly fishing guide and a great read. If you are seeking MacLean's place where …all things merge into one and a river 
runs through it, this guide is a great place to begin."
---
Share this Product