Link to your individual collections by creating a new linklist in the Navigation section of the admin.
You can then have it appear here by choosing your new linklist under Customize Theme / Sidebar.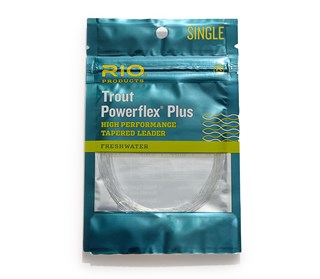 RIO Powerflex Plus 3 pack
---
Powerflex Plus Trout Leaders are the strongest trout leaders ever made, with tensile strengths up to 20% more than regular leaders. A technical modification of the nylon copolymer formulation has resulted in prodigious strength increase, without compromising the knot strength or suppleness. Simply put, these are the strongest, most reliable trout leaders ever made. 
There are three lengths available: 
7.5 ft - 7X (2.75 lb) to 0X (18 lb) 
9 ft - 7X (2.75 lb) to 0X (18 lb) 
12 ft - 7X (2.75 lb) to 0X (18 lb) 
Each leader has a hand tied perfection loop in the butt end for fast rigging. 
IDEAL FOR: 
Dry Flies 
Soft Hackles 
Nymph / Indicator Rigs 
Streamers

---
Share this Product
---
More from this collection